Chloramine Consulting
If you have ever been involved with a capital project, such as a new building or a big construction renovation, you are probably already familiar with the term "VE". VE stands for Value Engineering...or as we in the industry say, Vicious Elimination.
Theoretically, Value Engineering is the practice of helping the owner select the best options for the best prices, thus giving the owner the best value. The most bang for their buck. The most facility for the cost. In reality, however, VE is a corrective measure that has to occur because the budget did not match the actual price of what was designed. So it's time to start cutting costs.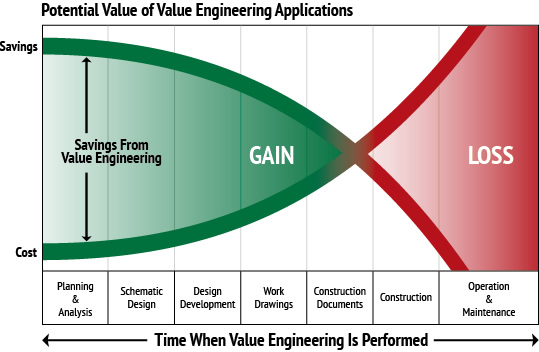 Image: Value Engineering, as a process, visualized. Notice the operating costs tend to be higher for the cheaper items in design.
Value Engineering is when the design team and General Contractor (GC) help the owner decide what should be eliminated or reduced from the project in order to save money and get the project within budget. It is always painful, never fun, and yet it continues to occur on almost every job. As a result, VE is a process dreaded by [almost] everyone involved in a construction project.
As you can tell, we have some opinions about the VE process. So much so, that here we are writing to you about it.
Why is Value Engineering Necessary?
The short answer to this question is simple: because the project was either not budgeted correctly to begin with, or the design team designed beyond the means of the budget. So things must be eliminated to get within budget for the job to actually happen. Think of it like this...imagine you go to the grocery store to buy food and other items for a birthday party. Your budget is $150 dollars for the party. If you're anything like us, you probably aren't adding up the exact dollar amounts of the items in your cart. Cups, paper plates, food, chips and dip, beer and wine, and the cart continues to fill.
At the end of the shopping spree, imagine instead of just swiping your credit card and eating the difference (because who cares? It's a party!), you cannot go one penny over $150.00.
Items continue to be scanned, and pretty soon, you're over $100, with quite a few items left in the cart. When it's all said and done, ouch! The total is $242. You weren't even CLOSE to the budget you had set beforehand. What do you do?
In the VE process, hard decisions must be made. Do we go with less beer and wine, or less food? Do we really need napkins? People have clothes to wipe their hands on, right? Actually–you probably look at the most expensive items and decide if they are really needed. Whatever it takes to get that shopping cart under $150.01.
So is Value Engineering necessary? No, it can be prevented if you:
Budget the project correctly up front, and
Design within that budget.
Side note, wouldn't it be wild if Congress followed a similar set of rules? But we digress...
Budget properly, up front
In full disclosure, we have no experience estimating for construction projects, and therefore cannot pass too much judgement here. Estimating is a science that takes a lot of practice and hard work to be good at. Furthermore, discussions about realistic expectations must be conveyed with an owner before the design process begins.
Normally, the owner of the future facility has to get financing in some form or another, and the budget is set during that process. It's usually a round number "in the ball park" of what the project should cost. In such cases, since the budget is somewhat out of the design team's control, it then becomes a matter of managing the owner's expectations. If you know the weight room the owner wants will cost $240-300k, it is your responsibility to help the owner understand what that might look like.
Or how about a properly-sized pool dehumidifier instead of a far cheaper air conditioner? Using anything short of a pool dehumidifier for a natatorium is a common mistake we see. And it always costs more than doing it right the first time.
In our humble opinion, when it comes to natatoriums, there are a few items that should never be VE'd out of the project. Fortunately, there are plenty of items that can be.
Design within the established budget
Once a budget has been set, not only should the design team clearly communicate expectations with the owner, they should keep the budget in mind during their work. We so often see things SO over-designed, or overly pretty and fancy. For example, an indoor pool facility we visited (because their air quality was horrible and they needed help) chose to VE out pool dehumidifiers for commercial air conditioners. Folks, that was appalling to see. That would be like putting a trailer hitch on a Honda Civic to pull a horse trailer. But hey, it was waaaaay cheaper up front. Alas, VE is a brutal thing.

And far more costly in the long term.

The worst part of this particular facility was finding out where the money was spent instead. You might never guess...but it was in the lobby and main entrance. Beautiful tile mosaics and custom curved glass that made the entrance look like an architectural masterpiece. Meanwhile, the purpose of the aquatic center was for people to participate in aquatics; the same people who were getting sick from a major chloramine problem.

This could have been avoided by designing within the established budget. Why pluck dollars from the natatorium to put into the lobby? Why not budget the pool for healthy air and quality water, prioritizing function over aesthetics, and go from there? It is our intention to guide design teams to not neglect certain priorities for air quality in swimming pools. Apart from the fundamentals? Have at it.
Conclusion
Value Engineering is something we would like to never see again. It can be avoided by budgeting properly up front, managing owner's expectations, and designing within the budget in the first place. That way, items never have to find their way to the chopping block.
Especially vital items pertaining to the health and safety of swimmers and lifeguards.